Multimedia Encyclopedia
Gastroesophageal Reflux Disease (GERD)
Gastroesophageal reflux disease (GERD) is a syndrome caused by structural or functional incompetence of the lower esophageal sphincter, such that it permits retrograde flow of acidic gastric juice into the esophagus, and up to the level of the larynx and pharynx (throat). GERD is made more likely by obesity, large, late meals before bed, alcohol, and acidic, salty, or spicy foods. Treatment can include dietary modification, placing the frame of the bed on a head-to-toe slant, and a variety of medications that decrease stomach acidity.
Sometimes acid reflux is diagnosed when it isn't the real problem. The do-it-yourself trials in this downloadable article can help a person and his or her personal physician verify if acid reflux is the appropriate diagnosis: When Acid Reflux Treatment Takes You Down a Rabbit Trail.¹
1. Originally published in Classical Singer, April 2009. Posted with permission.
Endoscopic View of Esophageal (Acid) Reflux: Series of 2 photos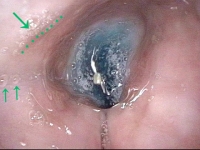 Liquid in the lower esophagus (1 of 2)
After swallowing blue food-colored water, it sits momentarily in the lower esophagus waiting to enter the stomach. The saliva bubbles indicated by arrow and dotted lines are for reference with the next photo.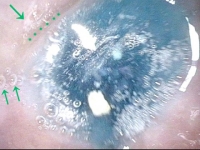 Acid Reflux int he lower esophagus (2 of 2)
A moment later, without effort or gag, the blue water refluxes (zooms upwards from the lower esophagus and stomach) towards the stationary camera chip. If this occurred with acidic stomach contents, the esophagus would suffer chemical irritation and the patient might experience "heartburn."
---
---
Gastrostomy (G) Tube
Gastrostomy (G) tube is a tube that passes directly through the abdominal wall and into the stomach in order to deliver fluids and nutrition. Liquid food is nutritionally complete and can support life and health in individuals who are unable to swallow, like those with absent swallow reflex.
---
General anesthesia
General anesthesia is a state of drug-induced, reversible loss of consciousness used, for example, to facilitate surgery. Drugs that induce general anesthesia may be administered intravenously or by inhalation of a gas or vapor.
---
Glottic Furrow
A disorder in which a furrow or groove is seen on the vocal cord, running parallel to, and at or just below, the cord's free margin. This glottic furrow normally represents a defect in the underlying vocal ligament. Often, the deepest part of the furrow is lined with epithelium that is attached directly to thinned vocal ligament. Pseudobowing (due to mucosal and ligament abnormality more than atrophic muscle) is also a common feature.
Glottic furrow vs. glottic sulcus
A furrow is to be distinguished from a sulcus, which is more a defect within the mucosal layer only, and is thought to represent the empty sac of what was formerly a cyst. A furrow is typically shallow, and its lips are apart; a sulcus is usually deeper, and its lips are in contact and therefore harder to see. A furrow normally adheres to the vocal ligament, and the apex or deep surface of a sulcus often does as well. However, in the case of a sulcus, the vocal ligament itself is normal. Also, in the case of a furrow, the mucosal layer—often only an epithelial layer, in fact—will tend to adhere more broadly to the ligament, due to loss of the Reinke's space layer of the mucosa.
---
---
Glottic Sulcus
A degenerative lesion consisting of the empty "pocket" of what was formerly a cyst under the mucosa of the vocal cord. The lips of a glottic sulcus may be seen faintly during laryngeal stroboscopy. Or, vibratory characteristics may suggest this lesion.
A glottic sulcus may be overlooked unless one is familiar with this entity. To paraphrase eminent French laryngeal microsurgeon Dr. Marc Bouchayer, these lesions are diagnosed much more frequently once you know about them than before. At present, aside from having the patient coexist peacefully with this problem via voice therapy and other measures, surgery is the primary treatment modality.
---
Photos:
Glottic Sulcus, before and after surgery
Congenital glottic sulcus and bowing, before and after injection
Glottic Sulcus
Glottic Sulcus and Glottic Furrow
Glottic Sulcus Operation
Surgical Removal of Glottic Sulcus
Open Cyst or Sulcus?
Sulcus and Segmental Vibration
Open Cyst and Sulcus; Normal and Segmental Vibration
Glottic Furrow—Not Just Bowing and Not Glottic Sulcus
Mottled Vocal Cord Mucosa May Hide Glottic Sulci
A Case That Clearly Shows the Relationship Between Cyst & Sulcus
---
---
Glottic Web
An abnormal, continuous sheet of [intlink id="454″ type="post"]mucosa[/intlink] that joins the vocal cords together. This glottic web is analogous to the web one sees between adjacent fingers. Normally, in the absence of a glottic web, the mucosa covers each vocal cord individually to form a crisp "V".
A glottic web may be congenital, or it may result from injury. Classic teaching is that surgeons ought not to operate on the anterior portion of both vocal cords simultaneously, because the raw, de-epithelialized surfaces may grow together and create an anterior glottic web. Some webs do not need to be addressed because the effect on voice is minimal; in other cases, surgical approaches are indicated because of the poor voice often associated with this abnormality.
---
---
Glottis
The glottis is the middle part of the larynx, between the supraglottis and the subglottis, where the vocal cords and the space between them are located.
---
Granulation Tissue
Granulation tissue is tissue that develops as an exuberant "over-healing" response to irritation or injury. This irritation or injury could be due to an endotracheal tube, or a superficial cordectomy wound from surgery, or a number of other causes. Granulation tissue that forms on the posterior vocal cord is called a contact granuloma.
---
Photos:
Subglottic granulation and curving airstream: Series of 4 photos
Sometimes you DO remove granulation to avoid tracheotomy: Series of 8 photos
---
Granulomatosis with Polyangiitis (GPA)
A newer term for the auto-immune disorder previously called Wegener's Granulomatosis.
---
Gross Aspiration
Aspiration to a significant degree, in which a large amount of liquid or food material enters the airway. If a person commonly experiences gross aspiration, then he or she is at significant risk of aspiration pneumonia, especially if the person does not respond to it with aggressive coughing.
---