Multimedia Encyclopedia
R-CPD (Inability to Burp) Resources and Links
Here is a centralized, tabulated source of resources for patients who cannot burp, who have R-CPD (retrograde cricopharyngeus dysfunction, also known as "no-burp). After treating 550 patients (as of June, 2021), we have learned that people find useful information on a somewhat random basis. In case it helps, here is our suggested sequence, if you are just discovering what might be causing your daily misery caused by inability to burp, gurgling, bloating, flatulence, hiccups, etc.
Watch Dr. Bastian's YouTube video, Can't Burp? This May Explain Why.
This is a comprehensive introduction to the major and lesser symptoms of R-CPD (Inability to burp). It is also one of the best places to begin for family and friends who are struggling to understand your condition.

Read the initial peer-reviewed article on this condition, written by Dr. Bastian and colleague.
The x-ray image on page four shows in a glance, why persons with this condition experience such daily misery:
Read Dr. Bastian's additional articles:

Check out our entries on R-CPD

See us in the news:

Feel encouraged by online communities:

Reddit | No Burp: the struggle is real (16,000 followers!)
Facebook | Retrograde Cricopharyngeus Dysfunction (RCP-D) (500 + followers)

Watch no-burpers post-op videos on TikTok:

Read the stories of other no-burpers:
---
R-CPD Esophageal Findings
The details of the following photos may support the R-CPD diagnosis, though they should not be considered diagnostic. Take note that all photos are non-channel scope images; that is, the scope is not able to insufflate (blow in) air. The significance: the esophagus is typically collapsed around endoscopes inserted into them and air is pumped in through a tiny channel in order to gently expand the esophagus so that its walls can be seen. Here, the air the patient cannot belch/evacuate is doing that work for us. And the esophagus remains open for extended time, the full duration of the examination. Four findings are being evaluated and compared with normal esophagoscopy images (also without insufflated air to make the comparison valid):
1) Reflux from the lower esophagus, suggesting damage to the lower esophageal sphincter from constant upward pressure trying unsuccessfully to belch.
2) What we call an "aortic shelf," meaning that rather than an indentation of the medial circumference of the aorta, dilation of the esophagus drapes its mucosa across the upper surface of the esophagus, making a "horizontal shelf." Keep in mind again that this is without insufflating any air.
3) Continuous patency with very infrequent, partial "clamping" down of the lumen or, often no closure at all, suggesting that there is sustained opening pressure of unbelchable air and/or that the contractile ability of the esophagus is reduced, in similar fashion to what happens to an overly-distended urinary bladder.
4) Upper esophageal dilation in a medial-lateral axis so that the upper esophagus becomes stretched in an exaggerated "oval" rather than a more gentle oval or even "circle."
The Esophagus Doesn't Like Being Stretched for Years Due to Untreated R-CPD
Emerging Esophageal Findings: Series of 5 photos
Abdominal Distention of R-CPD: Series of 3 photos
Dramatic Lateral Dilation of the Upper Esophagus: Series of 3 photos
Dramatic dilation of the esophagus in a person with R-CPD due to buildup of swallowed air that he cannot belch to get rid of. : Series of 2 photos
---
Radiation Mucositis
Inflammation of mucosa caused by cancer-treating radiation. Mucositis is to mucosa as dermatitis is to skin. This inflammation appears reddish with patches of greyish superficial necrosis or ulceration. Typically, radiation mucositis fully resolves four to six weeks after the last radiation treatment.
---
Photos:
Radiation mucositis, appearing and going away: Series of 4 photos
---
---
Recurrent Laryngeal Nerve
The recurrent laryngeal nerve is a branch of the vagus nerve that supplies nerve fibers for movement and sensation of the vocal cords. This nerve follows a long course descending from the base of the skull into the chest, where it loops around the aorta (left side) or the subclavian artery (right side), then ascends again in the neck, running posterior to the thyroid gland before entering the larynx. Injury to the nerve at any point along its course may lead to vocal cord paralysis.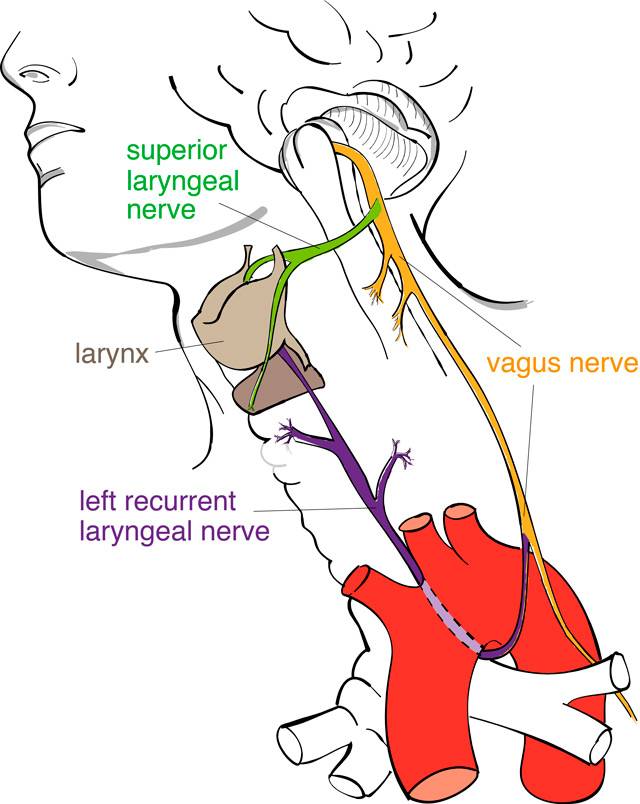 Adapted from an illustration by Jkwchui, CC BY-SA 3.0 license, via Wikimedia Commons
Save
---
Recurrent Respiratory Papillomatosis (RRP) and Other HPV-Induced Lesions
A disorder in which wart-like tumors or other lesions grow recurrently within a person's airway. These growths are caused by the human papillomavirus (HPV), and they may occur anywhere in a person's airway, such as on the vocal cords (by far the most common site), in the supraglottic larynx, or in the trachea. If these growths are removed, they will almost always grow back, or recur; hence, "recurrent respiratory papillomatosis."
Symptoms and risks of recurrent respiratory papillomatosis:
RRP can be life-threatening in young children, if not carefully followed and treated, since a child's airway is relatively narrow and can potentially be obstructed completely by the disease's proliferative growths; moreover, RRP in children tends to grow and recur more aggressively. In adults, RRP will usually only impair voice function (when the growths occur on the vocal cords), though it can also impair breathing in severe cases. Occasionally, RRP can also progress to cancer, and therefore patients found to be at high risk for this (see below) need to be monitored carefully.
Characteristics of the growths:
The growths usually associated with RRP are wart-like tumors, or papillomas, that protrude conspicuously from the surface on which they grow, often in grape-like clusters. These kinds of papillomas are usually seen in patients who have HPV subtypes 6 or 11, which are both lower-risk subtypes for incurring cancer. There are some HPV patients, however, who manifest their HPV infection with subtler, velvety growths within the airway—"carpet-variant" growths, so to speak. Although these "carpet-variant" growths do not have the wart-like appearance of the papillomas typically associated with RRP, there at least a few key points of similarity:
Both the "carpet-variant" and wart-like growths are lesions that sometimes appear, either independently or together, in patients who have HPV;
Both the "carpet-variant" and wart-like growths are stippled with polka-dot vascular markings, because each "loop" in the "carpet" or each "grape" in the wart-like cluster has its own fibrovascular core, seen as a red dot;
Both the "carpet-variant" and wart-like growths can disrupt voice function;
Both the "carpet-variant" and wart-like growths usually recur if they are removed.
Because of these similarities, we consider these "carpet-variant" growths, even when the sole expression of the infection, to be at least a cousin to RRP, within the family of HPV-induced lesions. Many patients with this "carpet-variant" condition have HPV subtypes such as 16 or 18 that are higher-risk for cancer; such patients need to be monitored with particular care.
Treatment for recurrent respiratory papillomatosis:
The primary treatment for RRP and other HPV-induced lesions is careful, conservative surgical removal of the growths. Because these growths almost always recur, surgery must usually be performed on a repeated basis, as frequently as every few weeks in children, but on average much less often in adults. A common interval between surgeries for adult patients is between every six months and every two years, depending on how quickly the RRP or other HPV-related lesion recurs and impairs the patient's voice function again. There are also a few medical treatments that have been used in addition to surgery, including, among others, interferon, indole-3-carbinol, intralesional mumps or MMR (measles-mumps-rubella) vaccine, cidofovir, and bevacizumab.
---
---
Videos:
---
Reductionistic diagnostic model
A term used somewhat interchangeably with the technology-driven diagnostic model. Reductionism is a theory that all complex systems can be completely understood in terms of their components. Applied to voice disorders, this would suggest that we can understand every voice disorder if we can only make enough measures of various sorts. By extension, proponents of the reductionistic diagnostic model might suggest that if we do not understand a voice disorder completely by the end of a comprehensive set of measures, we need more measures! This model for voice disorder evaluation might be viewed in competition with the integrative diagnostic model used at our practice.
---
Redundant supraglottic mucosa
An excess of mucosa overlying one or more structures in the larynx above the vocal cords. Mucosa in this area should "fit" snugly, like leggings, but in the case of redundant supraglottic mucosa, the fit becomes more like baggy pants.
Symptoms and treatment:
This redundant supraglottic mucosa most commonly develops on the apex and posterior surface of the arytenoid cartilage. Such mucosa sometimes draws inward during breathing and fills the laryngeal vestibule. In a severe case, inspiration can become noisy (stridor) or even effortful. When symptoms like these become troublesome, the excess mucosal tissue can be removed with endoscopic laser surgery.
Redundant supraglottic mucosa vs. laryngomalacia:
Redundant supraglottic mucosa is similar to the disorder laryngomalacia. In both disorders, supraglottic tissue is pulled into the laryngeal vestibule during breathing and can cause stridor. However, the causes of these symptoms are different. In the case of redundant supraglottic mucosa, the main problem is an excess of overlying mucosa, but in the case of laryngomalacia, the main problem is that the underlying structural tissue, such as that which comprises the aryepiglottic cord and epiglottic cartilage, is abnormally weak or soft.
---
Photos:
Redundant supraglottic mucosa, before and after surgery: Series of 8 photos
---
---
Reinke's Edema
See polypoid degeneration. Also known as smoker's polyps.
---
---
Videos:
---
Relative Voice Rest
A reduction in a person's amount and manner of voice use. When we suggest relative voice rest for patients, we sometimes tell them to think of using "vocal prudence," or to use their voice only for the "business of life," but not for pleasure-talking or purely social interaction. Some use a concept such as "you can talk for five minutes out of every 30." Still others use the 7-point talkativeness scale and ask a person to be a "1" or a "2," where 1 is "Clint Eastwood" and 7 is a life-of-the-party, highly sociable person.
---
Respiratory Dystonia
A syndrome caused by laryngeal dystonia in which the larynx's breathing function is affected. Laryngeal dystonia much more commonly affects the voice (spasmodic dysphonia) rather than breathing, but occasionally it affects only breathing, or both breathing and voice.
Individuals afflicted with respiratory dystonia may have difficulty inhaling air through a glottis closed by adductory spasms, or may be able to inhale without difficulty but then to find it hard to breathe out, as the victim of involuntary breath-holding.
---
Photos:
498 | Respiratory dystonia and the struggle to breathe
Audio:
Respiratory dystonia:
---
Retrograde Cricopharyngeus Dysfunction (R-CPD)
Inability to belch or "burp" (Also known as Retrograde Cricopharyngeus Dysfunction, or R-CPD for short) occurs when the upper esophageal sphincter (cricopharyngeus muscle) loses its ability to relax in order to release the "bubble" of air. The sphincter is a muscular valve that encircles the upper end of the esophagus just below the lower end of the throat passage. If looking from the front at a person's neck, it is just below the "Adam's / Eve's apple" and more specifically, directly behind the cricoid cartilage.
If you care to see this on a model, look at the photo below. That sphincter muscle relaxes for about a second every time we swallow saliva, food, or drink. All of the rest of the time it is contracted. Whenever a person belches, the same sphincter needs to let go for a split second in order for the excess air to escape upwards. In other words, just as it is necessary that the sphincter "let go" to admit food and drink downwards in the normal act swallowing, it is also necessary that the sphincter be able to "let go" to release air upwards for belching.
People who cannot release air upwards are miserable. They can feel the "bubble" sitting at the mid to low neck with nowhere to go. Or they experience gurgling when air comes up the esophagus and is blocked by a non-relaxing sphincter. It is as though the muscle of the esophagus continually churns and squeezes without success. The person so wants and needs to burp, but can't. Sometimes this can even be painful. Such people often experience abdominal bloating as the air must make its way through the intestines before finally being released as flatus.
For people who experience this problem to the point of discomfort and reduced quality of life, here is one approach: First, a videofluoroscopic swallow study, perhaps with effervescent granules. This establishes that the sphincter works normally in a forward (antegrade) swallowing direction, but not in a reverse (retrograde) burping or regurgitating fashion. Along with the symptoms described above, this establishes the diagnosis of retrograde-only cricopharyngeus dysfunction (non-relaxation).
Second, a treatment trial involving placement of Botox into the malfunctioning sphincter muscle. The desired effect of Botox in muscle is to weaken it for at least several months. The person thus has many weeks to verify that the problem is solved or at least minimized. The Botox injection could potentially be done in an office setting, but we recommend the first time (at least) placing it during a very brief general anesthetic in an outpatient operating room. That's because the first time, it is important to answer the question definitively, that is, that the sphincter's inability to relax when presented with a bubble of air from below, is the problem.
For a few months at least, patients should experience dramatic relief of their symptoms. And, early experience suggests that It may be that this single Botox injection allows the system to "reset" and the person may never lose his or her ability to belch. Of course, if the problem returns, the individual could elect to pursue additional Botox treatments, or in a truly severe case, might even elect to undergo endoscopic laser cricopharyngeus myotomy.
---
Photos of the cricopharyngeus muscle:
R-CPD and esophageal dilation: Series of 3 photos
The Esophagus Doesn't Like Being Stretched for Years Due to Untreated R-CPD
Esophageal Findings: Series of 3 photos
Abdominal Distention of R-CPD: Series of 3 photos
What the Esophagus Can Look Like "Below A Burp": Series of 3 photos
---
RevoLix laser
A diode pumped solid state laser made by LisaLaser of Germany, with a wavelength of approximately 2 microns. This is a very recent addition to the armamentarium of laryngology, because it allows laser energy to be delivered via a solid glass fiber. This enables use of the laser with flexible endoscopes while the patient sits in a chair, rather than requiring general anesthesia and an operating room. To our knowledge, our practice acquired the second RevoLix laser for laryngological use in the U.S.
---
Rheumatoid Nodules
Rheumatoid nodules are white, fibrous submucosal nodules located on the vocal cords. They are sometimes described as "bamboo nodes," because of the medial to lateral orientation of the submucosal lesion. Rheumatoid nodules in other areas of the body (elbows, knuckles, etc.) are almost always seen in the context of rheumatoid arthritis. In the larynx, they seem to occur with other auto-immune disorders, and sometimes as the first manifestation of an autoimmune disorder, before the patient has any other symptoms besides hoarseness.
The other entity in the differential diagnosis would be an epidermoid cyst, though distinguishing between the two is usually fairly simple on visual criteria alone. The key features for epidermoid cysts is that they are spherical rather than being oriented in a medial-to-lateral direction. If an epidermoid cyst begins to leak its contents, its shape can also become oval or oblong, but the axis of the submucosal white mass is anterior to posterior. Other distinguishing features of rheumatoid nodules are that they are routinely bilateral and sometimes even multiple as seen in some of the photo series below.
---
Photos of rheumatoid nodules:
Rheumatoid nodules and Crohn's Disease: Series of 4 photos
---
Multiple rheumatoid nodules under 3 kinds of light: Series of 4 photos
---
This subtle, submucosal mass is made more evident with high pitch. It is likely a rheumatoid nodule: Series of 4 photos
---
---