Multimedia Encyclopedia
Wegener's Granulomatosis
A rare inflammatory disease of small arteries and veins (vasculitis) that classically involves vessels supplying the tissues of the lungs, nasal passages (sinuses), and kidneys. At our practice, we see a large population of individuals with what we believe to be a forme fruste (incomplete expression) of Wegener's granulomatosis* causing subglottic and tracheal stenosis.
*Newer terminology is granulomatosis with polyangiitis (GPA)
---
Photos:
Subglottic stenosis, due to Wegener's granulomatosis: Series of 2 photos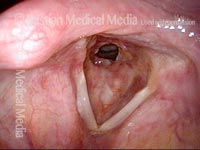 Subglottic stenosis, due to Wegener's (1 of 2)
This person has Wegener's granulomatosis, confirmed by anti-neutrophil cytoplasmic antibodies (ANCA) testing. Here, looking from above the vocal cords, one can see an estimated 50% narrowing of the subglottic and high tracheal passageway.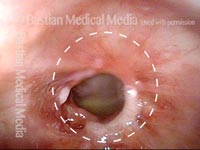 Subglottic stenosis, due to Wegener's (2 of 2)
Viewed from within the subglottis, one can see more clearly the inflammatory nature of this stenosis. A dotted oval estimates what the normal caliber or width of this airway would be. This patient has been managed with systemic medication, but also occasional dilation, steroid injection, and Mitomycin C application.
---
Airway stenosis caused by Wegener's granulomatosis, before and after dilations: Series of 5 photos
---
Vascular manifestations of Wegener's-related septum changes, and subglottic stenosis indistinguishable from forme fruste Wegener's: Series of 4 photos
---
Videos:
---
Working Diagnosis
Working diagnosis is a term used to refer to the leading contender in a list of two or more potential diagnoses. Infrequently, at the conclusion of the initial consultation, we have two fairly strong diagnostic possibilities, and begin with treatment for one of them, now termed the working diagnosis, as the next step in finalizing a diagnosis. If a working diagnosis is relatively certain, we may begin treatment for that diagnosis. In other cases, additional testing is in order to try to solidify the working diagnosis into a final diagnosis.
See also differential diagnosis.
---