A subtype of the human papillomavirus (HPV) which is less common in the airway than the more common subtypes 6 and 11. HPV 45 is associated with a higher risk of cancer formation, along with HPV subtypes 16, 18, 31, 55, and others.
---
Photos:
Papillomas, HPV subtype 45: Series of 2 photos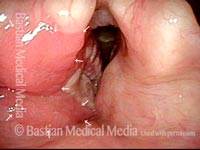 Papillomas: HPV Subtype 45 (1 of 2)
Papillomas in the supraglottis, left of image. The pink, velvety area of papillomas is outlined by small arrows.
---
HPV 45 that caused cancer: Series of 7 photos
---