Motivated examination: Series of 4 photos
---
Subtle papillomas and the importance of a motivated examination: Series of 4 photos
---
Motivated examination for diagnostic precision: Series of 2 photos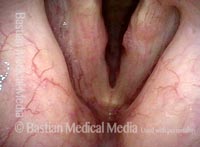 Chronic hoarseness, nodules suspected (1 of 2)
A person with chronic hoarseness. Working from a "typical" laryngeal examination photo alone, one might suspect vocal nodules.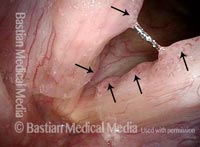 Arrows point to papillomas (2 of 2)
By going to the trouble of getting an extremely close-range view such as this one, requiring use of topical anesthesia, one can see what appear to be papillomas, with stippled vascular effect associated with HPV-related disease. RRP is in fact the biopsy-proven diagnosis and papillomas are indicated by arrows.
---