Pharyngeal paralysis, seen with pharynx contraction: Series of 2 photos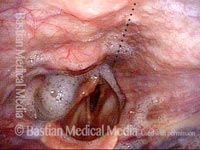 Pharyngeal paralysis (1 of 2)
View of the laryngopharynx. This patient has pharyngeal paralysis on one side, which is already slightly evident because the posterior pharyngeal wall's midline (dotted line) is deviating here slightly to one side, even at rest.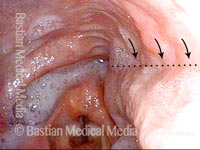 Pharyngeal paralysis, more obvious with pharynx contraction (2 of 2)
The pharynx is contracted, and the posterior pharyngeal wall (midline again at dotted line) now deviates dramatically toward the non-paralyzed side of the pharynx. This pharynx contraction was elicited via extremely high-pitched voicing.
---
Pharyngeal paralysis: Series of 1 photo
---
Pharyngeal paralysis: Series of 1 photo
---