Phonatory insufficiency: Series of 3 photos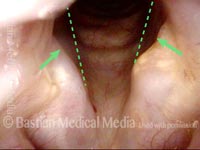 Phonatory insufficiency (1 of 3)
Abducted breathing position. Note the divots at the posterior commissure (arrows), likely due to pressure necrosis caused by intubation of long duration. Dotted lines indicate the lines of the normal cord, to show the divots more clearly.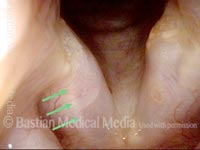 Phonatory insufficiency (2 of 3)
The irregular white line along the length of the vocal cords (arrows) suggests that there may have been pressure necrosis of the musculo-membranous portion of the vocal cord and that now the mucosa adheres directly to muscle, with no intervening vocal ligament layer.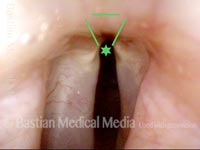 Phonatory insufficiency (3 of 3)
Maximum phonatory closure. Note that the posterior commissure defect is hidden by the partial closure of the arytenoid cartilages. Even so, the arytenoid cartilages are unable to come into contact. The musculomembranous cords are quite far apart due partly to tissue loss. Furthermore, the cords are stiff and inflexible. No glottic voice is possible.
---
Phonatory insufficiency: Series of 4 photos
---
Phonatory insufficiency due to loss of vibration-capable tissue: Series of 4 photos
---