Gradual healing of ulcerative laryngitis: Series of 4 photos
---
Vocal cord ulcer: Series of 2 photos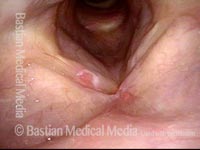 Vocal cord ulcer (1 of 2)
In a patient who had had hoarseness lasting several months, this inflammatory lesion of the right vocal cord (left of image) was identified. There is hazy leukoplakia surrounding a central intensely erythematous ulcer. It most resembles an aphthous ulcer, though these are not previously reported on the vocal cord, and this lesion's duration is longer than the typical aphthous ulcer.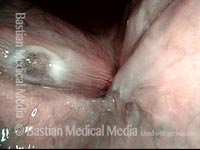 Vocal cord ulcer (2 of 2)
Closer view, under narrow-band light. The vessel pattern looks inflammatory and not neoplastic. There is heaped-up leukoplakia surrounding the lesion. After this lesion persisted for more than four months, it was removed. Tissue examination showed inflammatory response and keratosis without atypia.
---