Zenker's diverticulum a week after cricopharyngeus myotomy: Series of 3 photos
(1 o 3)
Shown in operating position, E = esophageal opening; PPW = posterior pharyngeal wall at the level of hypopharynx; S= residual Zenker's sac, now marsupialized into the esophagus; CPM = lateral bulges of completely divided cricopharyngeus muscle. The actual wound (W) is stained by the blue applesauce this elderly patient just swallowed.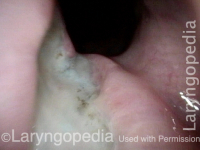 (2 of 3)
Not only the muscle, but also the elongated mucosal "septum" between sac and esophagus must be divided on both esophageal (anterior) and sac (posterior) surfaces. This view is mostly on the esophageal side. Note the large caliber of the esophageal opening, explaining dramatic resolution of this 90-something year-old woman's difficulty swallowing.
---