A subtype of subglottic stenosis that is inflammatory.  One view is that this entity is actually a limited expression of Wegener's Granulomatosis (aka Granulomatosis with polyangiitis).
Podcast:
---
Photos:
Idiopathic subglottic stenosis has different levels: Series of 4 photos
---
Another way to inject idiopathic subglottic stenosis: Series of 3 photos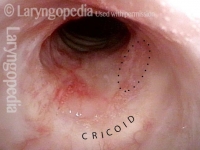 Idiopathic inflammatory subglottic stenosis (1 of 3)
This patient is about to receive a triamcinolone (steroid) injection into her idiopathic inflammatory subglottic stenosis, while sitting in a chair under topical anesthesia. Dotted circle is for reference with Photo 2.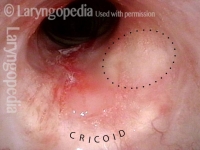 Priot to injection (2 of 3)
A needle has been passed through anterior neck skin and its tip rests out of sight, submucosally just inferior to the anterior cricoid ring. Note that the milky white medication has been infused submucosally within the dotted ring.
---