When food or liquid enters the laryngeal vestibule but, unlike with aspiration, does not descend below the level of the vocal cords themselves. Laryngeal penetration alone would be an indication of mild swallowing dysfunction, but it would not by itself create a risk of pneumonia, as aspiration might.
---
Photos of laryngeal penetration:
Laryngeal penetration: Series of 1 photo
All It Takes Is A Drip to Make You Cough: Series of 4 photos
Laryngeal penetration: Series of 1 photo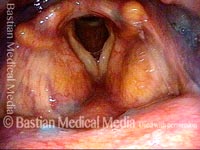 Laryngeal penetration (1 of 1)
After the patient swallowed several boluses of blue-stained applesauce, there were traces visible on the laryngeal surface of the epiglottis, indicative of penetration into the earliest part of the airway. By itself, soiling of the laryngeal vestibule to this minor degree does not threaten the person's ability to eat by mouth.
---
All It Takes Is A Drip to Make You Cough: Series of 4 photos
---