Pharyngocutaneous fistula : Series of 3 photos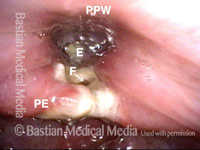 Pharyngocutaneous fistula (1 of 3)
Panorama of reconstructed hypopharynx one week after laryngectomy for persistent cancer after radiotherapy. (PPW = posterior pharyngeal wall. PE = pseudo-epiglottis, often seen after reconstruction. F's arrow = fistula. E = esophageal entrance.)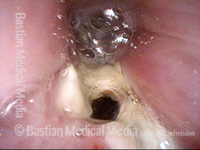 Pharyngocutaneous fistula (2 of 3)
Closer view of fistula opening and esophageal entrance, with salivary pooling.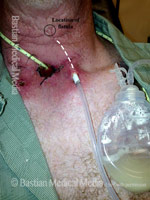 Pharyngocutaneous fistula (3 of 3)
Patient receiving suction drain treatment. The suction tubing evacuates saliva drop by drop as it forms, eliminating the need for wound dressings and long term antibiotics. This treatment also prevents infection and causes less discomfort for the patient than traditional treatment.
---