A malignant growth or tumor caused by abnormal and uncontrolled cell division. The hallmark of cancer is its potential ability to invade neighboring tissue or to spread (metastasize) to other parts of the body through the lymphatic system or the bloodstream. Early cancers may have done neither, remaining localized to the tissue of origin. The majority of cancers in the head and neck are classified as carcinomas.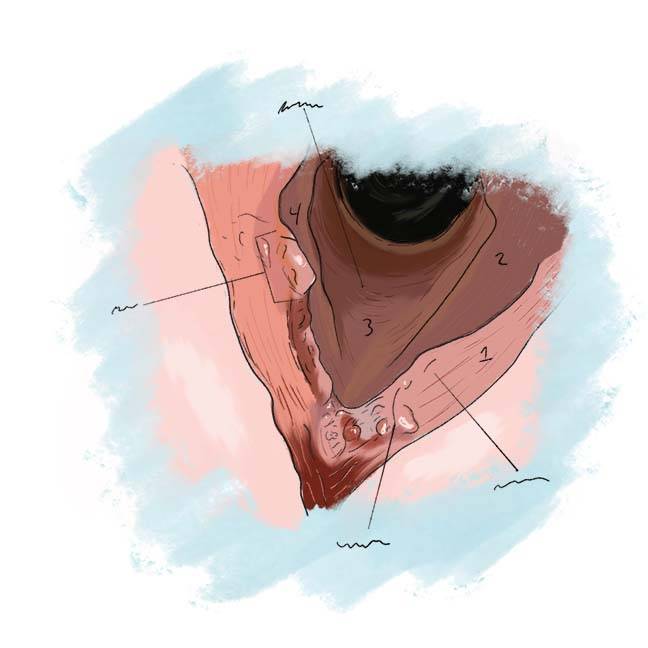 Laser Removal of Vocal Cord Cancer with Bilateral Disease
For treatment of early vocal cord cancer, both laser excision and radiotherapy are in competition as good treatment modalities. See also Early Vocal Cord Cancer: Remove with a Laser, or Radiate? Often, radiation is used when disease is bilateral, in the interest of preserving voice. This is an example of the ability to do fairly extensive laser surgery bilaterally, yet preserving good voice. This man had a friend who had severe difficulty with radiation, and he was therefore opposed to that option.
Laser Surgery for Bilateral Vocal Cord Cancer
Vocal Cord Cancer, before and after Surgery
Example 2
Glottic Cancer, Laser Removal
Glottic Cancer, After Surgery
Breaking cancer "rules" intelligently with use of laser
Glottic/vocal cord cancer
Supraglottic cancer
Hypopharyngeal Cancer, before and after Surgery
Verrucous Carcinoma, before and after Laser Treatment
Cancer, HPV Subtype 16, before and after Radiation
Vocal Cord Cancer, before, during, and after Radiation
Example 2
Radiation Induced Web
Larynx Cancer Managed like "skin cancer"
Vocal cord CA—a Case for Radiation Instead of Laser Resection
Scarring after Cancer Treatment but with Very Good Voice
Cancer Beginning to Block Airway
Breaking the Rules in Larynx Cancer
Biopsy of Early Vocal Cord Cancer
Tumor in Trachea
HPV 31 Cancer Cure
Before and after Radiation for Vocal Cord Cancer
Small, but Dangerous!
Unusual Posterior and Transglottic Epicenter for Larynx Cancer
Nice try, but on to Radiation
Progressive Cricoarytenoid Joint Fibrosis / Fixation as a Late Complication of Radiation
Progressive Radiation Fibrosis Effects on the Larynx and a Solution to some of it
Evolution of the Wound after Laser Removal of a vocal Cord Cancer: Not Pretty at First, but Voice Result can be very Good
Laser can Beat Cancer and Spare Voice even after Radiotherapy Failure
How a Vocal Cord Heals after Laser Removal of a Cancer
Early Vocal Cord Cancer
This video provides an introduction to early vocal cord cancer (stages 1 and 2) and compares the two main treatment options: laser surgery and radiation therapy.
Teleconversationwith Dr Bastian
Still have questions? Schedule a call with Dr. Bastian via Zoom.