Subglottic stenosis, before and after dilation: Series of 2 photos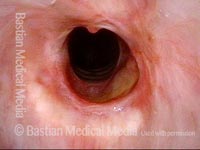 Subglottic stenosis, before dilation (1 of 2)
This individual has undergone at least a dozen prior dilations, each of which provides dramatic relief from noisy breathing and exercise intolerance. Here the patient is halfway to needing re-dilation, due to the typical inflammatory stenosis that is seen. Compare with photo 2.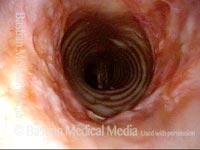 Subglottic stenosis, after dilation (2 of 2)
One week after one of this patient's dilations (with Kenalog injection and topical Mitomycin C), showing a dramatic widening of her airway; compare with photo 1. After a number of years, inflammatory lesions such as this sometimes "burn out," and the interval between dilations increases.
---
Subglottic stenosis, before and after dilation: Series of 5 photos
---
Airway stenosis caused by Wegener's granulomatosis, before and after dilations: Series of 5 photos
---