A projection of the anterior arytenoid cartilage, to which is attached the membranous vocal cord.
---
Photos:
Arytenoid's vocal process: Series of 1 photo
---
Vocal processes of the arytenoid cartilages, accentuated by vocal cord atrophy: Series of 3 photos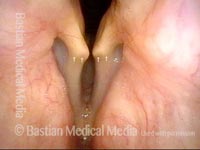 Vocal processes, accentuated by vocal cord atrophy (1 of 3)
Panoramic view of the vocal cords just before voicing. Notice the obvious outline of both vocal processes. (For orienting, the processes are bounded at one end by small arrows.) The processes shine through particularly clearly due to the marked atrophy of the vocal cords as a whole.
---
Vocal processes of the arytenoid cartilages, accentuated by vocal cord atrophy: Series of 4 photos
---