The larynx, also known as the voice box, is an organ of the anterior neck involved with breathing, phonation, and protection of the trachea. The vocal cords are housed within the larynx. The larynx connects the inferior part of the pharynx with the trachea.
---
Photos of the larynx:
Larynx: Series of 2 photos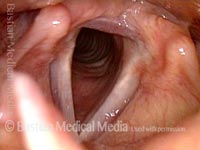 Larynx: breathing position
Normal larynx with vocal cords in abducted, breathing position. This is a view from from above, looking on line with the trachea beyond the vocal cords.
---
Pitch effects on vocal cord length and vibratory amplitude: Series of 10 photos
---
The asthenic but normal larynx: Series of 6 photos
---
---
Videos: