A retention-type cyst of the supraglottic structures not manifesting as either an anterior or lateral saccular cyst. With a supraglottic cyst, the duct of a single gland is thought to become obstructed and to thereby retain secretions. By contrast, with a saccular cyst, the mouth of the laryngeal saccule becomes obstructed.
Photos:
Supraglottic cyst: Series of 2 photos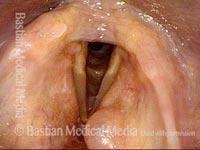 Supraglottic cyst (1 of 2)
On panoramic view, one can see that this is not an anterior saccular cyst, as it does not protrude from the ventricle.
---