The backward flow (reflux) of acid from stomach up into the esophagus or, even further up, to the level of the laryngopharynx. Symptoms may be esophageal, laryngopharyngeal, or both. Esophageal symptoms include heartburn, indigestion, and acid belching. Laryngopharynx symptoms tend to include dry throat, husky (especially morning) voice, frequent morning throat clearing, excessive mucus, and mildly sore throat.
Sometimes acid reflux is diagnosed when it isn't the real problem. The do-it-yourself trials in this downloadable article can help a person and his or her personal physician verify if acid reflux is the appropriate diagnosis: When Acid Reflux Treatment Takes You Down a Rabbit Trail.¹
See also: gastroesophageal reflux disease and laryngopharynx acid reflux disease.
1. Originally published in Classical Singer, April 2009. Posted with permission.
---
Photos:
Acid reflux: Series of 2 photos
---
Acid reflux: Series of 2 photos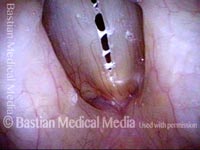 Acid reflux (1 of 2)
Open phase of vibration, strobe light, with white mucus sometimes but not always suggestive of acid reflux laryngitis.
---
Acid reflux and sicca syndrome: Series of 4 photos
---