Cartilaginous glottis: Series of 1 photo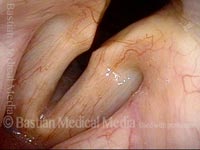 Cartilaginous glottis (1 of 1)
Vocal cords approaching adducted (phonatory) position. Note that the posterior 1/3 of the vocal cord is "inhabited" by the arytenoid cartilage, with vocal process turned slightly medially. The cartilaginous glottis appears to make up more than the posterior 1/3 of the cord due to optical distortion from the wide-angle lens used in the tip of the endoscope.
---