Tracheomalacia: Series of 2 photos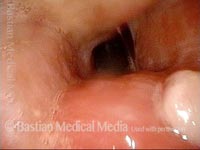 Tracheomalacia (1 of 2)
Even at its maximum functional caliber, this trachea is severely narrowed (stenotic), due to injury from long-term intubation and tracheotomy. Not yet visible here is the tracheomalacia component (illustrated in image 2). A small granuloma is also visible on the right edge of the image.
---
Tracheal hyperflexibility: Series of 6 photos
---