A subtype of the human papillomavirus (HPV) which is less common in the airway than the more common subtypes 6 and 11. HPV 16 is associated with a higher risk of cancer formation, along with HPV subtypes 18, 31, 45, 55, and others.
---
Photos:
Lesions of HPV subtype 16: Series of 3 photos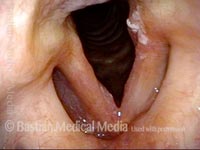 Lesions of HPV Subtype 16 (1 of 3)
Recurring inflammatory and leukoplakic lesions caused by HPV subtype 16. A left vocal cord cancer (right of image) was removed several years earlier, and the patient developed a right vocal cord cancer almost a year later.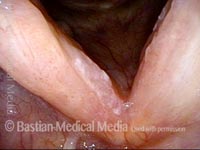 Lesions of HPV Subtype 16 (2 of 3)
Slightly magnified view, focusing on the anterior (frontward) ends of the vocal cords. The cords' stippled vascularity, which often accompanies HPV infection, is more apparent here.
---
Cancer, HPV Subtype 16, before and after radiation: Series of 5 photos
---