A vallecular cyst is a mucus-containing cyst in the vallecula. Such cysts are relatively common. Vallecular cysts are almost always asymptomatic and found during examination for another issue, such as a voice problem.
---
Photos of vallecular cyst:
Vallecular cysts: Series of 2 photos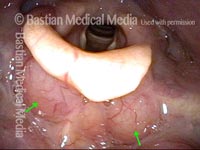 Vallecular cysts (1 of 2)
Panoramic view of the laryngopharynx, showing two vallecular cysts (arrows), between the base of the tongue and epiglottis.
---
Vallecular cysts don't disturb swallowing--except when they do: Series of 4 photos
---
Laser for a type of lesion usually left alone: Series of 8 photos
---