Pachyderma, caused by laryngitis sicca: Series of 3 photos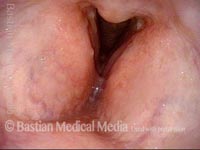 Pachyderma (1 of 3)
Pachyderma, here referring to the heaped up mucosa in the interarytenoid area, in a patient with laryngitis sicca.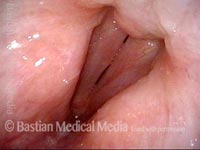 Pachyderma (2 of 3)
Adducted (voicing) position. Note that the pachyderma does not interfere with closure of the cords. In this case, the pachyderma does not directly affect the patient's voice, which is typical, but the more generalized inflammatory condition (see the redness of the cords) does.
---
Elephant skin: Series of 1 photo
---