The membranous shared wall between the trachea and esophagus. The tracheoesophageal party wall is also known as the membranous trachea. This membranous wall makes up one-third of the trachea's circumference; the other two-thirds is bolstered and stiffened by cartilaginous rings. These stiff cartilaginous rings help to keep the trachea open, whereas the membranous wall has some flexibility and may momentarily bulge into and narrow the tracheal passageway, as during a cough or a Valsalva maneuver.
---
Photos:
Rumbling vibration of the tracheoesophageal party wall can make coughing sound "infectious and productive" when it isn't: Series of 2 photos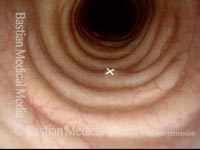 Tracheobronchial cough vibration (1 of 2)
Patient with SNC who is treated for presumed infection because of her congested rumbling "productive-sounding" cough. The "X" marks the same place in this photo and the following photo.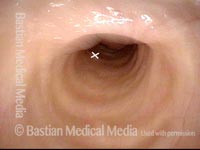 Tracheobronchial cough vibration (2 of 2)
Patient is at the moment of a deep, productive-sounding cough, but in fact it is not productive. Her many courses of antibiotics are probably unnecessary. The narrowing of the lumen is due to inward bulging of the membranous tracheal wall. The blur is caused by vibration during this cough.
---
Tracheoesophageal party wall with wheezing: Series of 5 photos
---