Enciclopedia multimediale della voce, disturbi della deglutizione e delle vie respiratorie; anche tosse cronica e incapacità di ruttare.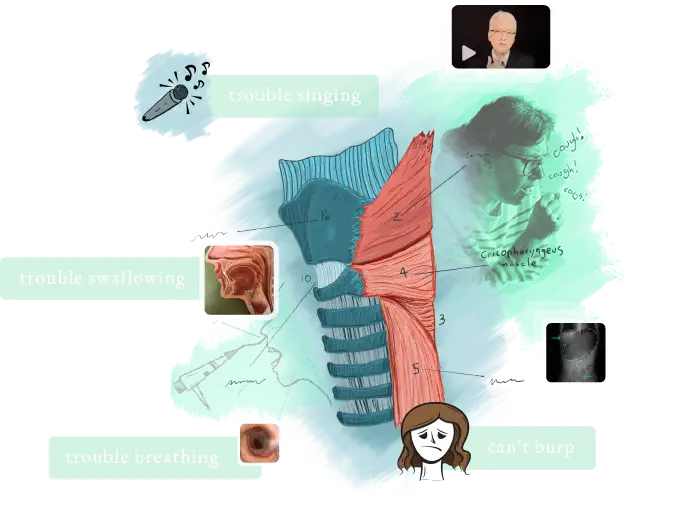 Cosa troverai su Laryngopedia?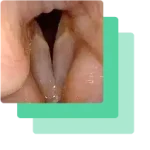 fotografie
Immagini ad alta definizione acquisite mediante Videostroboscopia della laringe, delle corde vocali e del tratto aerodigestivo superiore. vedi foto →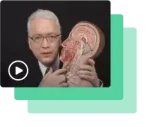 Videos
Registrazioni dettagliate delle corde vocali e delle vie aeree, della respirazione, della deglutizione e di altre funzioni della laringe. Guardare video →
Articoli
Osservazioni cliniche, aneddoti, serie di casi e quadri concettuali discussi per ulteriori esplorazioni. Leggi gli articoli →
Audio Clips
Registrazioni sonore di esercizi vocali, disturbi della voce e aggiustamenti pre e post-chirurgici alle corde vocali. Sfoglia le clip →
Voci dell'enciclopedia popolare
Una raccolta di voci visitate di frequente relative ad argomenti laringei.

Informazioni e strategie personalizzate, ovunque tu sia.
Non puoi ruttare? Tosse persistente? Un forte solletico in gola?
Le conversazioni telefoniche di 30 minuti del Dr. Bastian ti offrono un'opportunità strategica per trovare le cure di cui hai bisogno.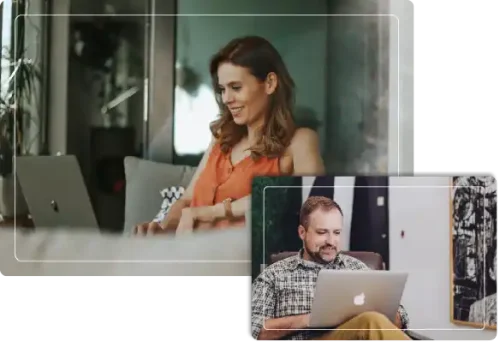 Cosa dicono le persone sulle nostre conversazioni telefoniche?
Dr. Bastian exhibited a high degree of professionalism and a unique and thorough knowledge of my issues.
Dr. Bastian is amazing. He really understands, listens and empathizes. He explains things in a very clear, straightforward way. He validated everything I have been experiencing.
Dr. Bastian is friendly, compassionate, and informative. He went above and beyond in my consultation with me to help me understand more of my condition, and how the treatment process works.

Articoli di giornale del dottor Bastian
Introduction The lower esophageal sphincter (LES) is a muscular "one-way" valve between the stomach and esophagus, whose purpose is to keep stomach contents, especially acid, from refluxing (going backward) up the esophagus towards the mouth. Yet, millions of people have a malfunctioning LES. This opens the way to a condition called gastroesophageal reflux disease (GERD), also referred to as "acid reflux." Acid Reflux Diagnosis In a person with GERD, acid
Il dottor Bastian è stato valutato da Chicago Magazine come uno dei "Top Doctors di Chicago" e da Castle-Connolly come uno dei "Top Doctors d'America". Ha anche ricevuto l'Honour Award per i contributi di insegnamento all'American Academy of Otolaryngology, nonché, nel 2010, il Distinguished Service Award.
Ha sviluppato e diretto team multidisciplinari per considerare i disturbi dei pazienti da tre prospettive: comportamentale, medica e chirurgica. In tutte le attività professionali del Dr. Bastian, che si tratti di consulenza con i pazienti, operatori, ricerche, scrittura o insegnamento, i pazienti vengono prima di tutto.